Medical Coverage
We offer first quality medical coverage during your stay with us


Luxury Rentals Madrid has signed a collaboration agreement with Quirónsalud, leader hospital group in Spain, to offer medical coverage to the customers staying in all the apartments and penthouses that we manage in Madrid.

This way, Luxury Rentals Madrid is one of the few companies in the holiday rental sector to offer this type of assistance with no cost for all the stays at any of our luxury apartments and penthouses.
This agreement with Quirónsalud is part of Luxury Rentals Madrid commitment to assure our customers' well-being under the leitmotiv: "You enjoy, we worry". This agreement goes in line with all the measures that we have already carried out in the last years regarding hygiene and cleaning, disinfection, security and control, sustainability, social commitment, technology and hosts well-being; together with those other measures that have been recently implemented to give answer to the current situation provoked by Covid-19 with the aim of providing maximum trust.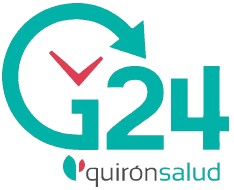 HOSPITALITY FOR
LUXURY RENTALS
MADRID
CUSTOMERS

Advantages
Home and telematic medical service as courtesy of

Luxury Rentals Madrid

for their hosts.
Transfer by ambulance, if necessary.
For free.
Premium admission circuit.
No language barriers.
Bureaucratic management of procedures with insurance companies included.
Goals
Offer medical service to customers as a security and trust attribute.
Develop a new concept of "customer experience", providing tranquility to Luxury Rentals Madrid hosts.
MEDICAL
SERVICE
PROCESS




First hospital group in Spain and Europe, with more than 50 hospitals and 80 medical centers, with a prestigious medical team.
Complete circuit of medical service in Spanish hospitals through a G24 multi-language call center. 24hrs / 7 days.
Simplify the admission process with no idiomatic barriers and with the bureaucratic management of patients insurances included, which helps offering a quick and quality service to the patient.
WHO IS
QUIRÓN SALUD?
Quirón salud is the first hospital group in Spain, and after the merger with Fresenius (Helios) firm, the biggest hospital group in Europe.
More than 60 years of experience in health care and people well-being.
All medical specializations at hand to offer an integral attention to each patient.
National network with more than 100 hospitals, institutes and medical centers present in 13 Spanish regions.
At international level, they are present in Dubai, Lisbon, Colombia and Peru.
The Helios Group presents 113 hospitals in all Germany.
A big team composed of more than 40.000 professionals.
The most advanced medical technology available.

YOU ENJOY,
WE WORRY
with Luxury Rentals Madrid
you don't need to worry
during your stay in the
capital of Spain.
HERE YOU CAN FIND THE
MEDICAL ASSISTANCE DOSSIER
You'll stay in apartments and penthouses totally disinfected and with all the security guarantees.
In case of needing medical assistance, you'll count with the service of the leader hospital group in Europe and with all amenities of the Premium treatment you worth.